2021 比翼x秀傳IRCAD生醫加速器Demoday:十二家國內外微創手術及醫材新創,醫療基金注入創造八十億產值
2021-08-23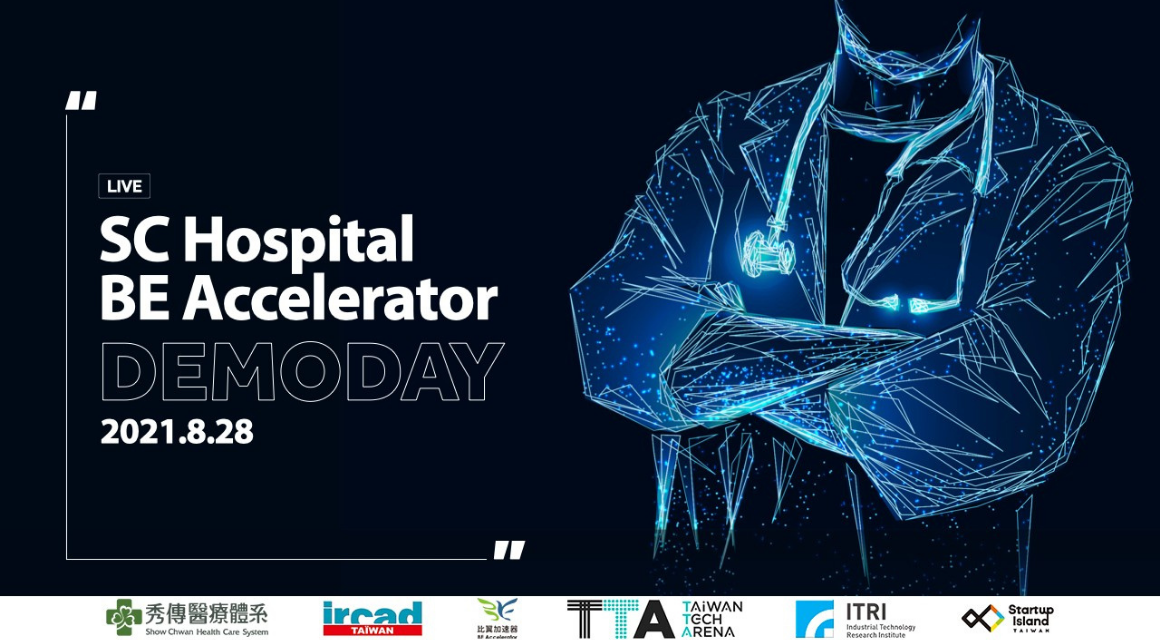 疫情肆虐,大眾對醫療新創的需求順勢而起。以微創手術著稱,亞洲首家微創手術中心—秀傳紀念醫院及IRCAD台灣,與台灣知名生醫加速器「比翼加速器」雙強連袂聯手,一同輔導十二家來自國內外的微創醫材新創,協助優秀新創推向國際市場。
SCMH X BE Demo Day,在科技部TTA 台灣科技新創基地的指導下盛大舉行,即將在8月28 日線上登場。十二個來自台灣及加拿大、日本及泰國的生醫新創,領域橫跨微創手術、醫材、AI、3D列印等生醫熱門投資項目。團隊們將於五分鐘的簡報中,以英語全程直播完成挑戰。
而本次demo day比翼、秀傳也將正式公開與智康創投合作,將共同投資ready to go global的生醫新創。同時我們也邀請到具有二十多年投資經驗的智康創投來到直播現場,分享合作里程碑,以及鼓勵更多台灣優秀的生醫新創,為台灣建立強大的「醫療生態圈」,預計在資金的挹注下,為台灣再下一城,創造超過八十億的產值,打造獨一無二的經濟競爭力。
demo day將全程採線上Facebook 直播分享的方式進行,歡迎對醫療生技領域、生醫創投有興趣的各位一同線上參與。
With its professional minimally invasive surgery applied technologies, SCMH & IRCAD Taiwan collaborate with the biggest healthcare accelerator, BE accelerator to incubate twelve brilliant startups to show their solutions in the fields of minimally invasive surgery, medical devices and AI healthcare to shape the future of healthcare industry.

BE accelerator is expanding its local and global healthcare ecosystem, including hospitals, investors, R&D, manufacturing and government to help startup not just in Taiwan but also worldwide to break into Asian markets.

We are excited to host an online live demo day on the 28th, August to celebrate the progress of our marvelous startups as they graduate from the 24-week POC program (Proof of Concept program) as well as explore the opportunities for more collaboration.

For the past 24 weeks, the twelve startups and our accelerator teams collaborated with mentors and partners to make this acceleration program remarkable. As the world marks a year and a half of the intense disruption by the COVID pandemic, our teams still demonstrated extraordinary resilience by coming up with significant innovative solutions through the digital transformation of our program.
以下為報名步驟:
報名步驟一:請到臉書按「參加」確保活動當天於臉書直播時您會收到即時通知
https://pse.is/3kluxy
報名步驟二:請到連結報名活動,我們將在會前提供您詳盡demo day手冊
https://pse.is/3lzx93
活動時間:2021年8月28日(六)14:00-17:00(13:30可開始上線)
[Registration]
All participants of the virtual demo day will have access to the event live and the recorded video. Moreover, we will have an exclusive campaign for registered VIP in our mailing list, including VIP booklets files and the opportunity to attend 1-1 facilitated introductions with the founders.

Please RSVP to be included in the VIP mailing list
}}
https://pse.is/3m2uu9
【活動議程】
14:00 - 14:05 Opening|活動開場
14:05 - 14:08 Opening Remark|貴賓致詞
14:08 - 14:18 SCMH x BE Introduction|合作對談
14:18 - 14:25 Announcement |基金發佈會
14:25 - 15:10 Pitch Session|新創發表
15:10 - 15:20 Break|中場休息
15:20 - 16:20 Pitch Session|新創發表
16:20 - 16:30 Closing Remark|新創點評&醫療創業趨勢
[Agenda]
14:00 - 14:05 Opening
14:05 - 14:08 Opening Remark
14:08 - 14:18 SCMH x BE Introduction
14:18 - 14:25 David & Thomas
14:25 - 15:10 Pitch Session
15:10 - 15:20 Break
15:20 - 16:20 Pitch Session
16:20 - 16:30 Dr.Lee penal
參與新創團隊簡介:
團隊一:亞洲準譯
亞洲準譯提供病原高通量基因定序檢驗服務,可以在一次檢驗中,以病人的血液、腦脊液、組織、肺泡灌洗液等檢體進行定序分析,,在2-3天內提供醫師及時且正確的資訊協助醫師進行診斷,以擬定最佳治療方案。
Asia patho Genomics: a startup developed a metagenomic next-generation sequencing (mNGS) method which is a hypothesis free and timely method that could sequence every single pathogen, inclusive of bacteria, virus, fungus, and parasite, in one test.
團隊二:醫百科技
「『雷帝納』手術導航系統」,主要以包括腦神經外科、耳鼻喉、整形外科、顱顏、骨科及口腔外科等部位微創手術與安全精準定位用途。
EPED: an innovative medical and dental navigation solutions complemented with Augmented Reality (AR) Technology in the field of minimally invasive surgery.
團隊三:ALTUMVIEW SYSTEMS
來自加拿大的新創團隊,所開發的智能視覺傳感器Sentinare是一種創新的AI IoT產品,可以自動檢測跌倒、揮動、面部表情和其他異常行為,可將即時簡筆圖傳輸到雲端中進行處理,進行跌倒風險評估以預防跌倒,針對遠程監控患者,進行行為健康分析以早期預測慢性疾病。
ALTUMVIEW Systems: a Canada-based AI startup that focuses on the development of smart vision technology for elderly care, rehabilitation, behavioral/cognitive health solutions.
團隊四:HEMOCATH
來自加拿大的新創團隊,HEMOCATH智能心力衰竭監測平台將通過提供可操作的臨床數據以優化藥物劑量和治療以減少住院和再次住院的方式,改變心力衰竭的治療方法。
HEMOCATH: another Canada-based startup that guides diagnosis, treatment and monitoring of patients with heart failures (HF). HemoCath Intelligent HF Monitoring Platform is for remote patient monitoring (AI, SaaS).
團隊五:INOPASE
團隊共同創辦人(Co-founder & CTO) Peter來自台灣,在日本當地建立團隊發展,並取得國立研究開發法人日本醫療研究開發機構(AMED)的資金資助,這筆研究經費是日本給新創企業最高的研究經費。另外,INOPASE也取得與日本東京大學產學合作,並在加速器的促成下,與秀傳醫院及工研院合作臨床實驗,開發目前全球市場首見的第一個神經回饋功能的無線充電微創神經刺激器。
INOPASE: an entrepreneurial concept which develops wireless power miniaturized implant neuromodulation with closed-loop function for Overactive Bladder (OAB) and Fecal Incontinence (FI) treatment. Current implant neuromodulation for OAB and FI treatments require patients to take multiple implantation surgeries and still have additional safety issues, INOPASE is closing the gap to improve the treatment efficacy.
團隊六:METICULY
來自泰國的新創團隊,針對整形外科、神經外科和重建外科醫師的定制骨植入物,可在2-7天內透過AI輔助、3D打印製作出客製化骨植入物,供給患有骨缺損的患者。
METICULY: a Thailand based start-up that provides 3D printing medical technology on personalized implant solutions for bone-related surgeries.
團隊七:邁斯科生醫
主要從事微創手術醫療器械之研發和製造,提供之 Solid ClipTM 10釐米血管夾 (CA16 系列) 是單一病患使用拋棄式多發鈦釘之滅菌處理的腹腔手術作為血管閉合之用。
Medscope: a brilliant startup that minimizes the risk during Minimally Invasive Surgery, as known as MIS. created 15° slope design for a better visibility. Anti-drop design of the jaw could make sure a surgeon won't drop any extra clips into a patient during operations (which happen occasionally).
團隊八:寶泰生醫
寶泰生醫致力於寵物免疫治療藥物的研發,目標是成為亞太地區寵物疾病免疫治療領先者。寶泰的研發團隊來自於美國哈佛大學、哥倫比亞大學、美國默克公司等,累積數十年人類藥物開發經驗。過去曾完成四項候選藥物由實驗室到美國人體臨床二期的開發工作。
Protect Biotech: the company is committed to the research and development of companion animal immunotherapy drugs with the goal of becoming a leader in pet disease immunotherapy in the Pan-Asia region. Protect Biotech currently has the world's first broad-spectrum animal cancer treatment product PT001, ready to enter clinical trials.
團隊九:PRESSUREDOT TECHNOLOGY
PRESSUREDOT主要是結合擴展醫學和物聯網的領域,開發出全球首創聚焦於重症患者腹內壓力量測膠囊系統,提供臨床端於重症患者監控與照護上更為便利之解決方案。並從臨床重症照護擴展至其他臨床監測乃至於全人健檢應用。
Pressure Dot: a startup that is involved in measuring intra-abdominal pressure in the clinical settings of preventing Acute Compartment Syndrome. The system consists of an abdominal capsulized pressure detector/sensor that can be swallowed by patients for continuous measurement of intra-abdominal pressure.
團隊十:SMART SURGERY
團隊專注於應用醫療影像技術以改善⼿術品質、提升手術效率。主要產品為微創手術訓練模擬器與AI器官辨識輔助系統。AI器官辨識輔助系統可輔助醫師辨識重要部位,減少手術時間以及避免手術誤傷。
Smart Surgery: a startup that improves the qualities of surgeries and records the surgical procedures intensively. With Smart Surgery's visual computing AI model, they deliver the services including surgery simulation system, medical image automatic labeling and surgery assistance system to better facilitate the development of education in surgical operations.
團隊十一:懷瑟格
利用微流控技術開發生化檢測系統,可用於食品安全和血液測試,目前致力於開發腎臟疾病使用之居家快速血檢儀器與試片。
Wisergers: an innovative concept that develops biochemical detecting systems with microfluidic technology. Wisergers is committed in the supply of affordable, fast and the convenient products for biochemical detection in food safety and blood tests.
團隊十二:炳碩生醫
炳碩生醫專注開發「脊椎微創手術機器人輔助系統」,以手術機器人輔助系統結合導航軟體、機器手平台控制技術,協助醫師進行高風險之脊椎手術,提供安全、精準、智慧化的解決方案。
Point Robotics: a revolutionary innovation that increases the adoption of minimally invasive surgery and continue their commitment to designing minimally invasive solutions that reduce variability in surgery and help to provide deliver better care. Point's technology can lower the surgery risks, reduce medical costs, prevent unsalvageable spinal injuries, shorten patients' recovery time, prevent unnecessary medical imaging radiation exposure, and most importantly improve the precision in surgeries.
主辦單位介紹

<比翼加速器>
以生技醫療照護為關注重點的比翼加速器(BE Accelerator),同時也是台灣最大的醫療生技新創加速器,以長期關注醫療相關為主軸,透過與全球多家重量級醫療院所的合作關係,積極投入資源於生物科技與醫療照護領域的新創團隊,以拓展亞洲及歐美市場。從 2018 年成立之際,至今已孵化五十一組團隊,募
資總金額高達 75.8M 美金。
<秀傳紀念醫院>
『秀傳』之名源自黃明和總裁對尊翁的緬懷,化作表達關懷長者、疼愛幼者、守護民眾健康的理念。服務民眾的觸角分布在全台灣北、中、南各地區,形成堅強的醫療體系,目前全體系員工五千多人,病床數三千五百多床。秀傳醫療體系是一個心手相連的「家族」,目前從北到南有八家醫院,
< IRCAD-Taiwan 亞洲遠距微創手術訓練中心>
IRCAD遠距微創手術中心1994年於法國史特拉斯堡發跡,結合最先進的科技與享譽國際的專家學者,致力於培育訓練外科醫師。因著秀傳醫療體系與法國遠距微創手術中心的合作,亞洲遠距微創手術中心於2008年落成,延續法國微創中心的努力,為亞洲的外科醫師帶來最好的教育訓練模式。目前已經受訓國內外來自60國、總額超過7000位的醫師。師承自法國微創中心的外科訓練模式,一步步的手術示範教學、活體豬隻與大體實驗操作,為亞洲的外科醫師帶來最好的教育品質。
聯繫人:
比翼加速器
陳欣潔行銷經理 Polly Chen|0909-543-177|Polly@behealthventures.com

[About BE Accelerator]
BE Accelerator is the largest growth-focused program and venture fund for healthtech, medtech and digital health startups in Taiwan. Based in Taipei, we leverage the unique strengths of our thriving ecosystem to position as the gateway to Asia for both local and international startups. Started in 2018, we back fifty-one healthcare entrepreneurs, and raise $75.8M+ USD successfully.

[About SCMH-Show Chawn Memorial Hospital]
The name "Show Chwan" originated from President Huang's commemoration of his late father. It represents an aspiration to show concern for the elderly, love the young ones, and care for everyone's health. Show Chwan is a hand-in-hand "family" healthcare system with a current number of eight hospitals. For medical and healthcare, President Huang Min-Ho advocates the spirit of "Mayo Clinic" by establishing a "sound rural hospital" system, allowing even the people in the most remote of areas to enjoy the quality and cordial medical care found in cosmopolitan cities.

[About IRCAD Taiwan]
In 1994, IRCAD opened on the grounds of the University Hospital of Strasbourg. Since its creation, IRCAD has gained world renowned fame as a leading research, technology and surgical education institute. Asian Institute of Telesurgery (AITS/IRCAD-Taiwan) was created in 2008 under the guidance of IRCAD/EITS and this groundbreaking alliance with Show Chwan Health Care System brings the 800 international experts affiliated with IRCAD/EITS to closer proximity of Asian surgeons, providing identical level of excellence in education while saving time and money in traveling. Tens of thousands of surgeons from the world over came to IRCAD-Taiwan to obtain high-level skills, cutting-edge technology, pioneering medical devices.

Media Contact:
BE Accelerator, Polly Chen Polly@behealthventures.com