2021 TTASV 新創赴美矽谷落地支持與輔導計畫
2021-07-26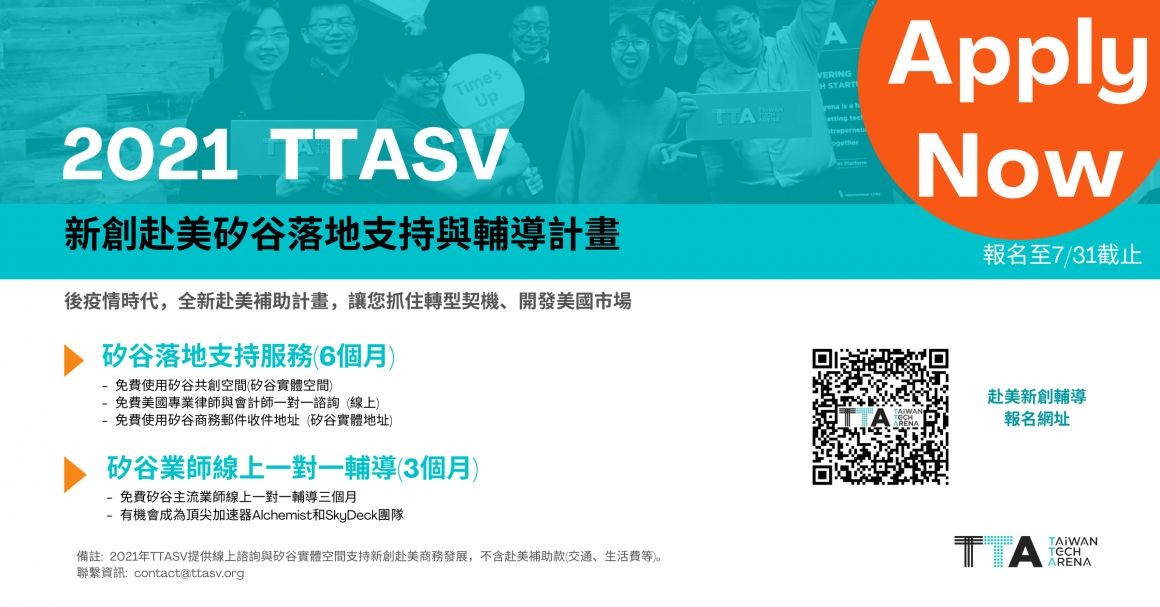 爲協助台灣科技新創團隊打入矽谷國際新創圈,協助新創拓展海外市場,科技部台灣科技新創矽谷基地(TTASV)全新推出兩個輔導方案:
【方案一】落地支持服務
優選20家即將進駐矽谷之新創公司,提供免費六個月落地支持服務(共創空間、專業法律一對一諮詢、郵寄地址)
💡 免費-開放式共創空間(矽谷實體空間)
💡 免費-美國法律與會計一對一諮詢服務 (線上諮詢)
💡 免費-郵件地址及信件接收 (矽谷實體收件地址)
【方案二】矽谷業師線上一對一輔導三個月
優選10家具國際市場開發潛力公司,提供免費三個月矽谷商務業師一對一輔導協助、有機會成為頂尖加速器輔導團隊(Alchemist、SkyDeck、500 Startups等)
💡 矽谷主流新創業師一對一輔導三個月,依需求每周固定會議
💡 有機會成為全球頂尖加速器SkyDeck與Alchemist輔導團隊
💡 500 Startups、Alchemist、SkyDeck、Life Science Angels業師群
想提升你的新創並前進國際舞台?不要錯過這個難得的好機會!
完全免費、提供給準備好進入美國市場的你
💡
即日起開放報名至7/31為止
💡 報名網址
https://forms.gle/q1q1eHkDJ33mJTg96
Startups! With the application closing soon, there are 2 programs that you don't want to miss! One application, two great opportunities!
First, the U.S. Softlanding Program. It's a program where startup teams who are outside of the U.S. can
💡 book a co-working space in the Bay Area
💡 get a U.S. mailing address
💡 have consultation hours from lawyers and accountants in the U.S. to ask legal and accounting questions.
Second, the Mentorship Program. It's a program where each startup gets
💡 weekly 1:1 mentorship hours for 3 months on a variety of topics such as sales, growth marketing, fund-raising, product management, public speaking and more.
💡 selected teams may get a chance to get those mentorships from top accelerators.
Apply before July 31! Have questions? Join our Information Session on July 23th at 5:30 p.m. PDT. RSVP for information session
Related News
Watch Global News
Watch UChannel TV News