11/30 Foodland Ventures: 2022 AgriFood Tech Virtual Demo Day
2022-11-30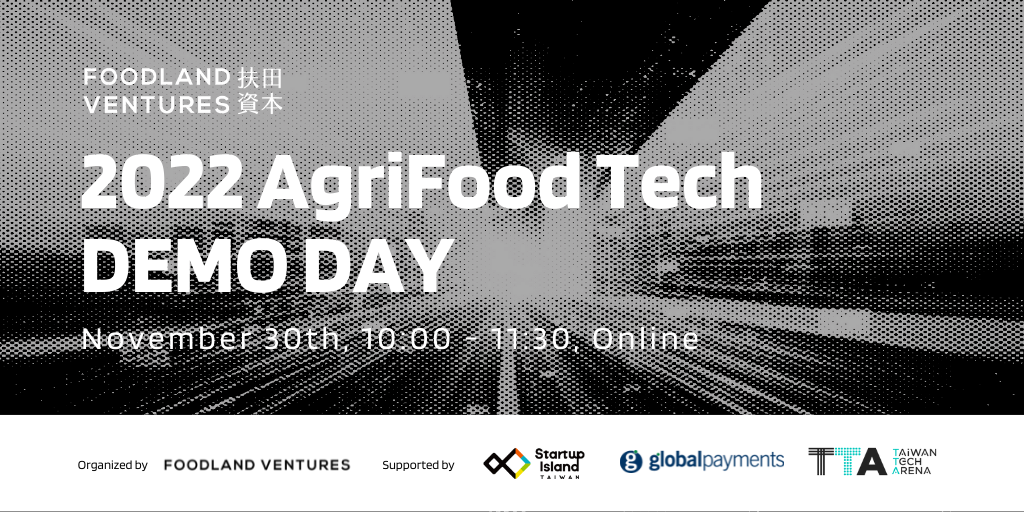 Foodland Ventures' annual Demo Day is back! We'll be hosting the online event on Nov 30th, 10:00 AM Taipei Time (GMT +8), and it will be 100% virtual for you to join anywhere in the world.

➡️ Register now: https://bit.ly/3N19F6o
▎Get to know our startups with their pitches, and connect with the teams.
This year, we're extending our reach to upper-stream teams in the supply chain. We'll be showcasing AgriFood Tech startups in the categories of #AlternativeProtein, #SmartAquaculture, #SmartFarming and #BioTech to present their innovative solutions. Also, we'll be joined by top-tier investors to share their insights on global investment trends in AgriFood Tech industry during our fireside chat session.
*Startup lineup and fireside chat speakers to be announced soon
▎Who shouldn't miss this event?
We welcome startup founders, VCs, CVCs, investors, entrepreneurs, food industry professionals and executives, restaurant chains' owners to engage and connect with our startups.
▎Date
November 30th .2022 (Wed) 10:00 AM - 11:30 AM (GMT+8)
▎Agenda
10:00-10:20 Opening
10:20-10:50 Fireside Chat
10:50-11:20 Startup Pitches
11:20-11:30 Closing Remarks
▎Registrations are limited, please sign up here:
https://bit.ly/3N19F6o

臺灣第一個食農餐飲科技創業加速器與創投基金 扶田資本 Foodland Ventures ,年度食農餐飲科技 Demo Day 將於 11 月 30 日(週三)上午 10 點線上登場,想了解科技團隊如何解決食農餐飲供應鏈的產業挑戰,並掌握投資先機,立即報名參與!

➡️ 立即報名: https://bit.ly/3N19F6o
▎透過新創 Pitch 了解最新科技,並鏈結團隊創辦人
今年,扶田資本擴及產業上游,實現「從產地到餐桌」的新創扶植與投資。此次 Demo Day 將邀請 #替代性蛋白、#智慧養殖、#智慧農業,以及 #生物科技 團隊向您介紹他們的創新科技。
另外,也將邀請國際投資人分享全球 #食農餐飲科技 投資趨勢。掌握產業新知及投資先機,您千萬不能錯過。
*新創及論壇講者即將公開
▎誰不該錯過這場食農餐飲科技盛會?
誠摯邀請創業家、創投單位、天使投資人、企業投資單位、餐飲品牌經營者、媒體、新創生態圈等各界來賓共襄盛舉。
▎日期
11 月 30 (週三)上午 10:00 - 11:30 (台北時間)
▎議程
10:00-10:20 開場
10:20-10:50 國際投資人爐邊論壇 Fireside Chat
10:50-11:20 新創簡報發表
11:20-11:30 結語
▎名額有限,請立即報名:
https://bit.ly/3N19F6o