Qualcomm & Techstars Startup Series Mentor Workshop #7
2020-10-08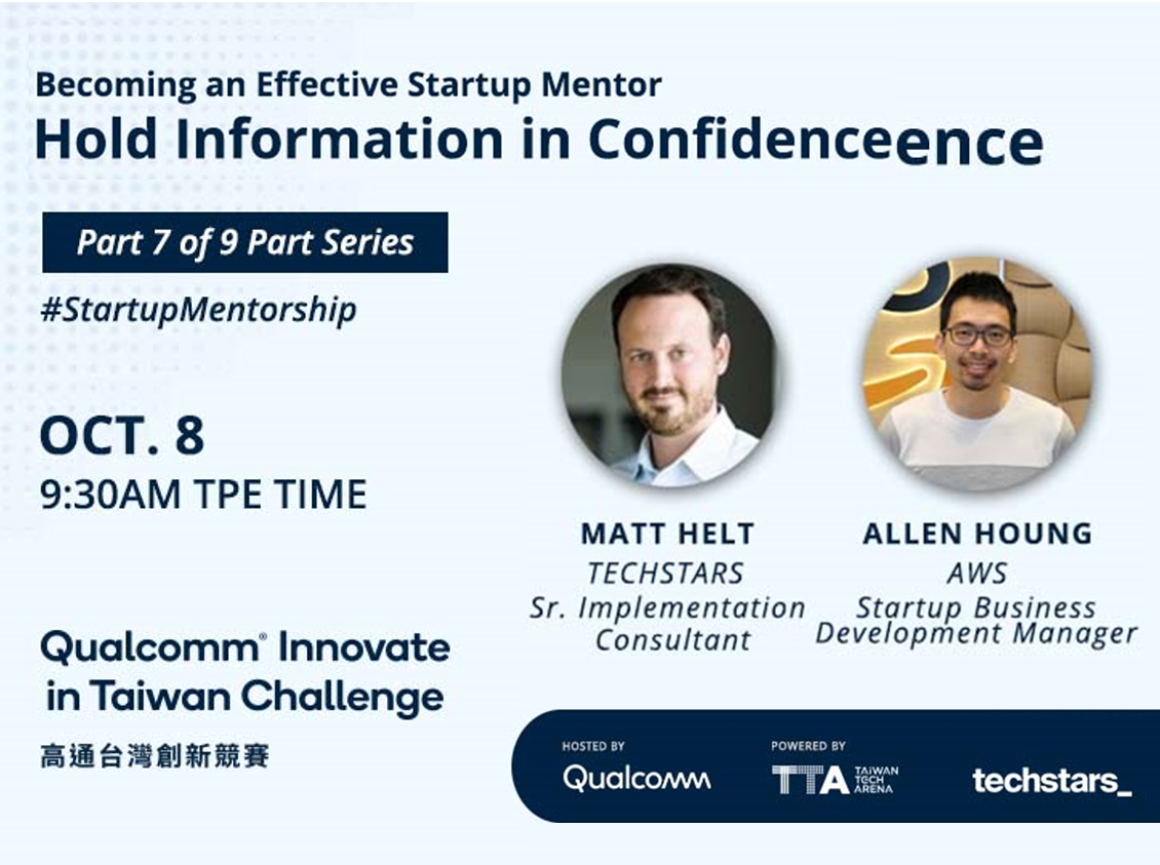 Qualcomm & Techstars Startup Series Mentor Workshop #7

【Event Date】Thursday , Oct. 8, 2020

【Event Time】09:30 (Taipei Time / GMT +8)

【Event Location】Zoom (You will get the link after signing up in Accupass)
【Fee】Free
【Event Link】

https://techstarstwsc.pros.is/vjq52


【Event Description】
Successful startup founders all have one thing in common - they surround themselves with great mentors. But in many startup communities, mentors are in short supply. This is where you come in.
Join us for this informative session about how you can share your knowledge and experience with founders in a way that works best for them. This is part of a workshop series (first Thursday of every month) co-hosted by #Qualcomm and #Techstars for supporting the Taiwan startup ecosystem.
This is part 7 of a 9 part mentor workshop series. Matt Helt & our special guest, Allen Houng, Startup Business Development Manager at AWS will discuss how to become an Effective Startup Mentor with this part focused on "Hold Information in Confidence. "
Generally, founders are always open and transparent to mentors. In exchange, mentors will hold information in confidence. However, distinguishing what is confidential or secret may be tricky. Let's see how Matt and Allen deal with this from their past experiences.

|About Allen Houng|
Allen Houng currently serves as a Startup Business Development Manager at AWS in Taiwan, building an international ecosystem for startups that helps with business needs encompassing fund-raising, financing, go-to-market, hiring, and winning customers. Before AWS, Allen founded Loopd in San Francisco, an event analytics IoT company which was later sold to Aventri, a world-leading event software management brand.
|About Matt Helt|
Matt Helt is the Sr. Implementation Consultant on the Ecosystem Development team at Techstars, as well as a Leadership Development Coach. Having worked with 90+ startup communities around the world, Matt has seen many best practices in action, especially in regards to mentorship. Based in the U.S., Matt will be joining us via video to pass along what he's learned so that you can help startup founders right here in Taiwan.
---
【活動日期】2020/10/08(四)

【活動時間】09:30 am (GMT+8)

【活動地點】Zoom (報名後將拿到zoom會議連結)

【活動費用】免費

【活動連結】

https://techstarstwsc.pros.is/vjq52



【活動介紹】
成功的新創創業家都有一個共同點 - 只要一有時間,他們就會圍繞在有很豐富新創經驗的導師們身邊請益。但是,通常許多新創社群裡,是非常缺乏導師這個角色的!
Qualcomm高通和美國白金級加速器Techstars聯手於每月的第一個週四推出一系列加速台灣新創生態系成長的導師工作坊,此導師工作坊由Techstars 美國生態發展團隊的資深顧問Matt從美國連線,與特別來賓一同分享新創導師的實務及如何與創業家建立良好的關係,如果你是有經驗的新創導師或對新創有經驗、有想法、想幫忙發展台灣新創生態系、未來想成為新創導師,快來加入這系列千載難逢的新創講堂吧!
新創系列導師工作坊第7場,我們將聊聊「Hold Information in Confidence」這個主題。在創辦人開放且透明的分享他們的事情時,Mentor也應該要協助保密相關訊息,但如何拿捏什麼該說、什麼不該說中間的平衡呢?
本次我們邀請到AWS新創事業發展經理Allen,來與Techstars美國新創生態發展團隊資深顧問Matt一起分享過往他們的相關經驗。
|關於Allen Houng|
Allen目前在AWS擔任新創事業發展主管,協助新創建造國際生態圈,來幫助需要募資、財務、進入市場策略、招募和尋找客戶的企業。在加入AWS之前,Allen在舊金山創辦了Loopd,一間做活動分析的IoT公司,也在後來成功賣給全球知名的活動軟體管理品牌Aventri。
|關於Matt Helt|
美國白金級加速器現任 Techstars 新創生態發展團隊的資深顧問,也是新創領導人才培育的輔導教練。他曾與全世界超過90個新創社群合作過,累積了非常豐富的實戰經驗,尤其是在培育新創導師這個領域。
YOU MIGHT LIKE THESE ACTIVITIES
TTA Black Card Membership Open for Application

TTA南部據點x 創新實證碰撞沙龍系列巡迴交流( III )~邀請你來交流!

TTA南部據點x 創新實證碰撞沙龍系列巡迴交流( II )~邀請你來交流!