TTA 科技女力XYZ座談會:XYZ 世代的台法女性創業家社會影響力
REGISTRATION EVENT
REGISTRATION DEADLINE:
2023-02-24
TTA 科技女力XYZ座談會:XYZ 世代的台法女性創業家社會影響力
2023-02-24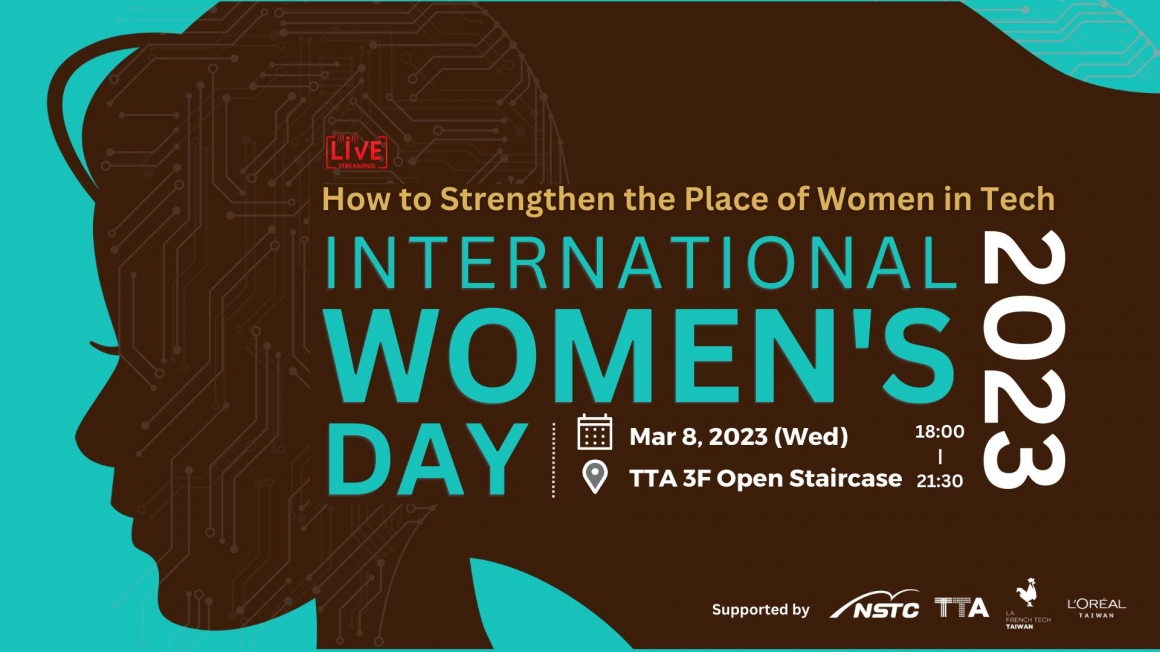 TTA 科技女力XYZ座談會:XYZ 世代的臺法女性創業家社會影響力
因應外交部規劃辦理女力外交「臺灣性別平等週」;今年國科會 TTA首次攜手法國 La French Tech 於臺灣共慶「INTERNATIONAL WOMEN'S DAY 2023 」!!
​
從臺灣出發,鏈結法國再到紐約的系列女性論壇活動,我們首先將邀請 XYZ 世代的臺法女性企業家,一起分享與探討在不齊頭的起跑點上,如何善用女性特質在「剛與柔」間轉換,提升社會影響力,接續法國將邀請臺日法三國的女性創業家連線,討論如何加速科技業女性人才的成長,最後我們將在3月10日上午於TTA FB直播外交部在紐約辦理的主題研討會!
​
多元領域科技女力創業家,精彩嘉賓陣容,別錯過現場交流的機會
​​
TTA 科技女力XYZ座談會
|時間|2023.03.08 (三) ​ 6:00PM - 9:30PM
|地點|TTA 臺灣新創科技基地 3F 階梯區 (臺北小巨蛋)
|立即報名|
https://lnkd.in/gfhy3Urr
|陣容|多元領域科技女力創業家
➢ ​ 鄒開蓮 董事長 臺灣世界展望基金會
➢ ​ Eva Leihener-Stefan 總裁 臺灣萊雅 L'Oreal Taiwan
➢ ​ 王信懿 創辦人 啟兒寶兒童語言發展
➢ ​ Clara Chappaz, Director, La French Tech
➢ ​ Claire Chang, Founder of Techmoi, French Tech Taiwan Board Member
➢ ​ Moeko Suzuki, President, Startup Lady Japan
➢ ​ Melody Chen, Research and Development Manager, AeproMED Innovation corp
How to Strengthen the Place of Women in Tech
Correspondence of "Taiwan Gender Equality Week" organized by TECO; this year, TTA and La French Tech Taiwan take the opportunity the celebration International Women's Day!!
From Taiwan to the world, we have invited female entrepreneurs of the XYZ generation in the French and Taiwanese innovation ecosystems will be sharing testimonies to contribute to creating equity and diversity in the workplace. Furthermore, female entrepreneurs from Taiwan, Japan, and France to discuss how to accelerate the growth of female talents in the technology industry in the 2nd-panel discussion. Lastly, stay tuned for the TECO seminar on March 10th
Sign up and take advantage of the opportunity to meet with all the female entrepreneurs!!
How to Strengthen the Place of Women in Tech
|Time|2023.03.08 (Wednesday) ​ 6:00PM - 9:30PM
|Venue|Taiwan Tech Arena 3F
|Registration| https://tinyurl.com/yfj2m9vh
|Speakers|
➢ Rose Tsou, Chairwoman, World Vision Taiwan
➢ Eva Leihener-Stefan, CEO, L'Oreal Taiwan
➢ Amy Kwok, MD, MPH, CEO, Penguin Smart
➢ Clara Chappaz, Director, La French Tech
➢ Claire Chang, Founder of Techmoi, French Tech Taiwan Board Member
➢ Moeko Suzuki, President, Startup Lady Japan
➢ Melody Chen, Research and Development Manager, AeproMED Innovation corp