500 Global Founder Reception with Special Guests (Founders of Rotten Tomatoes, Kabam and Crunchyroll)
500 Global Founder Reception with Special Guests (Founders of Rotten Tomatoes, Kabam and Crunchyroll)
2022-12-13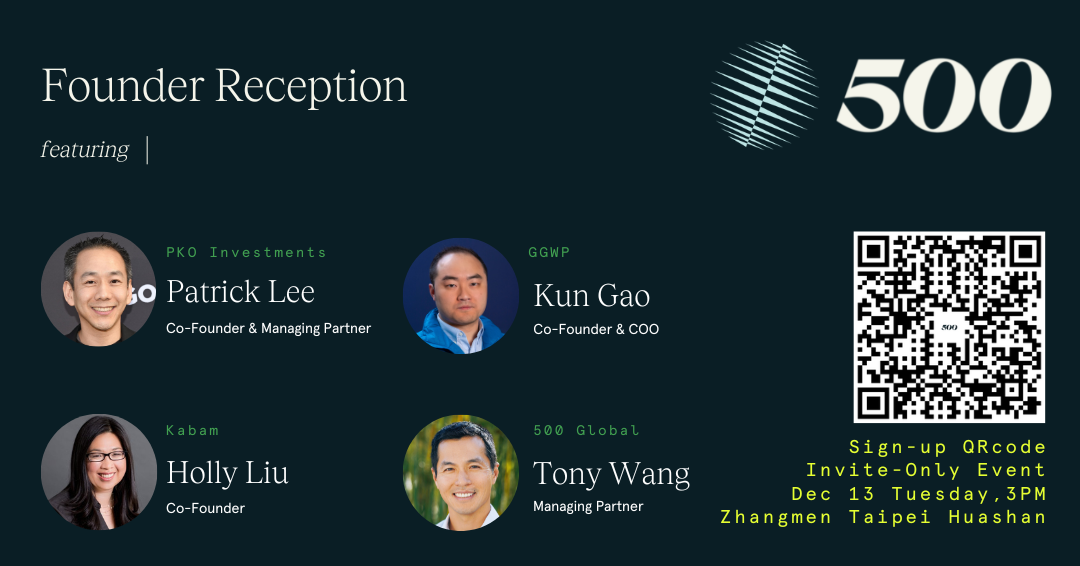 500 Global Founder Reception with Special Guests (Founders of Rotten Tomatoes, Kabam and Crunchyroll)

The 500 Global Taiwan Team is hosting a special reception for founders on December 13, 2022 from 3-5pm at Zhangmen Taipei Huashan. We are welcoming our special guests from PKO investments coming from Silicon Valley to discuss company building through challenging times.

Refreshments and beer will be provided. This is an invite-only event and space is limited, so kindly RSVP ASAP and we will send over a calendar invite as confirmation. We look forward to seeing you!!

RSVP google form here https://forms.gle/eBbFAwCsfMc5RXSG8

Agenda:
3:00-3:15pm Check-in
3:15-4:00pm Roundtable discussion with PKO Investments
4:00-5:00pm Networking happy hour

Special Guests:

Patrick Lee is an entrepreneur focused on the intersection of tech+entertainment best known for being a Co-Founder & the founding CEO of Rotten Tomatoes (rottentomatoes.com), a leading entertainment website focused on movie reviews and news. He is a Co-Founder & Managing Partner of PKO Investments, a syndicate of notable investors investing in the next generation of founders at the intersection of tech & entertainment. He is part of the Founding Team and a Board Member of the Gold House Collective and is an active advisor to a number of startups. He has also mentored and/or supported programs at 500 Startups, SOSV, Berkeley SkyDeck, Blue Startups, Founder Institute, and more.
Holly Liu co-founded the unicorn mobile gaming company Kabam, that made games with Hollywood IP, such as Marvel, The Hobbit, Star Wars, Transformers, The Hunger Games and many more. In 2017, Kabam sold to Netmarble and FoxNext. After exiting, Holly was a Visiting Partner at Y Combinator, an early stage accelerator that has birthed companies like Twitch, Airbnb, Dropbox and many others. She now runs a collective - PKO - with Patrick Lee, Kun Gao and Kevin Lin (founder of Twitch).
Kun Gao is co-founder & COO of GGWP, which is modernizing moderation and tackling toxicity in gaming and the metaverse. Previously, he founded and was CEO of Crunchyroll, the world's largest destination for anime and manga. He brings 20 years of experience in consumer media, including founding social mapping service Frappr, product and engineering at Slide and HOTorNOT.