CES 2022 ✕ TTA Call for Startups Deadline extended to Oct 10 (Sun)
CES 2022 ✕ TTA Call for Startups Deadline extended to Oct 10 (Sun)
2021-10-10
#TTA
# CES
#TTA International Expo.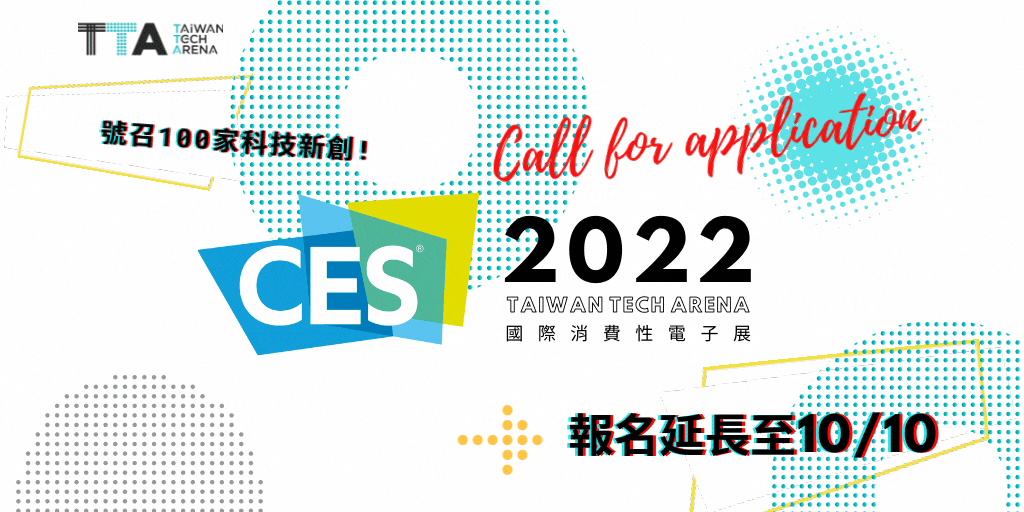 CES 2022 ✕ TTA Call for Startups Deadline extended to Oct 10 (Sun)
CES 2022 starts with you. There's still time to submit an application for the 2022 CES, Jan 5-8, in Las Vegas.
To ensure you have enough time to craft your application, we are extending the submission period through

Sunday, October 10 at 23:59 Taipei time.

Now you can use this extra few weeks to fine tune to your submission!
►►► Submit Your Application Here


Exhibition Date
2022/01/05 Wed ~ 2022/01/08 Sat, Nevada
2022/01/05 Wed ~ 2022/01/31 Mon, Virtual

Exhibition Venue
Eureka Park, Sands Expo, Las Vegas Convention Center

Exhibition Format
TTA is calling for 100 startup teams to participate in CES 2022. In addition to assisting the selected teams to build an online-offline exhibition experience, TTA will also utilize the event's resources to conduct digital marketing and provide a gateway for startup networks around the world to engage with Taiwan's technology resources and organizations. Click here for CES official webpage.

Qualifications
Company incorporated in Taiwan, or Academic startup Team, or Foreign startup mentored by TTA's accelerator partner
Must have an official website in English and Crunchbase profile.
Eureka Park participants are limited to a maximum of two consecutive years of participation within the startup area. However, participation in CES 2021 Digital does not count toward a participation year.
Must meet CTA's Eureka Park Entry Criteria

Application Process
All Taiwan startups are welcome to apply online through the link below. Your pitch deck will be reviewed by investors from Silicon Valley through TTA's preliminary selection round, and a secondary review will be conducted by CTA to determine whether you qualify for Eureka Park.

Submit your application here - Deadline extended to 2021/10/10 (Sun) 23:59, Taiwan time!

Questions?
TTA Pavilion: TTA Ms. Zoe Lee / 03-5912123 / zoelee@taiwanarena.tech

For COVID-19 travelling information, please click here for TTA's CES 2022 dedicated website.
YOU MIGHT LIKE THESE ACTIVITIES
TTA 大師開講 🌱2050淨零碳排·綠色新未來🌍

# 4thAnniversiary
#TTA South

TTA Black Card Membership Open for Application

《SparkTalks|創業思博客》物流新創 Pickupp 如何運用 AI 與大數據演算法翻轉物流產業