IAPS-Access to Asia Batch 2 東亞新創加速計畫
2021-06-21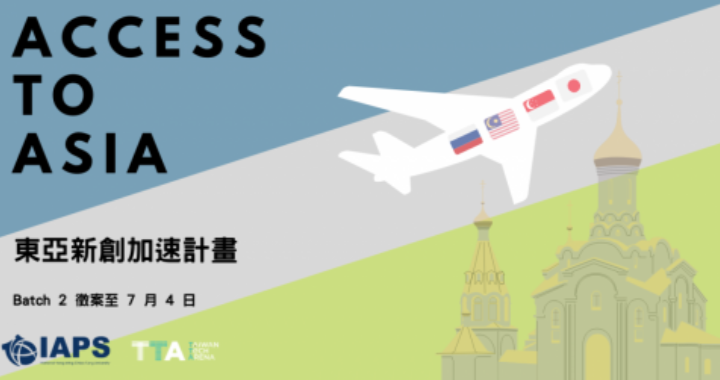 ▐ Access to Asia Batch 2
Designed for Startups (Taiwan + foreign) that are interested in South East Asia market (Singapore, Malaysia, Thailand…)
2021 IAPS Access to Asia Program Batch 2 Application Starts NOW!
The Pandemic crisis can be an opportunity if you are willing to engage it!
IAPS Access to Asia (2021) is a 4-month Asia market access acceleration program for startups. You will be collaborating with overseas partners, mentors and investors. IAPS provides a one–stop service for startups to explore multi-national business and funding opportunities among Asia!
後疫情時代及東南亞疫情惡化下,新創該如何打入國際市場呢?
疫情時代對於新創來說既是危機也是轉機,IAPS帶你趁此機會接觸瞭解甚至打入海外市場!
Access to Asia是一個為期4個月的東亞市場開拓加速專案,專案期間你有機會接觸我們國際夥伴的業師課程以及評估,接觸投資者跟廠商!
◆專家業師,國內外人脈連結
◆企業國際合作、行銷、辦公空間(將因應疫情做調整)等相關資源!
想要了解更多資訊可以參考連結?
https://iaps.nctu.edu.tw/apply-tta-ican/
立即報名:
https://reurl.cc/j8k3ED
報名截止日為7/4
YOU MIGHT LIKE THESE ACTIVITIES
TTA Black Card Membership Open for Application

TTA南部據點x 創新實證碰撞沙龍系列巡迴交流( III )~邀請你來交流!

TTA南部據點x 創新實證碰撞沙龍系列巡迴交流( II )~邀請你來交流!