【新創活動訊息分享-林口新創園】臺灣新創立陶宛經驗分享會-Little Ones, Big Dreams
2022-08-19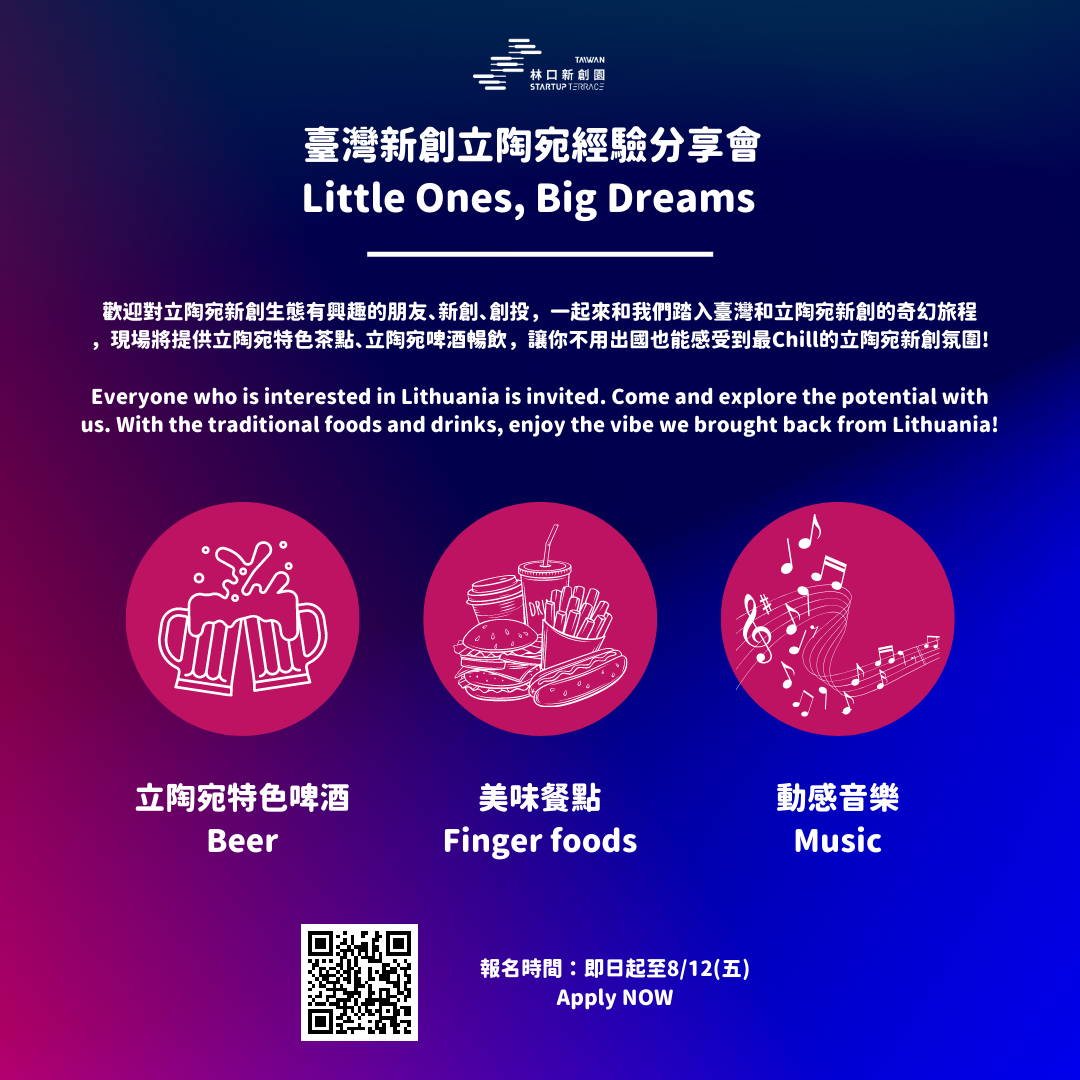 ✨時間:8/19 (五) 17:30開放入場
✨地點:林口新創園A3(新北市林口區仁愛路二段496號)
✨報名連結:https://seminars.tca.org.tw/D10o03543.aspx
立陶宛和臺灣,同樣身為小巧精緻的國家
小小的我們,卻擁有大大的夢🗭
林口新創園今年五月帶著臺灣優秀新創赴立參加當地新創展會🛫
本活動邀請當時一同赴立的團隊🤩,來現場和大家分享熱騰騰的開「立」經驗外,也將同步連線立陶宛投資局的夥伴,介紹當地的新創環境和資源🛬!

歡迎對立陶宛新創生態有興趣的朋友、新創和創投💞,一起踏入這段奇幻旅程,聽聽第一手的經驗分享,和我們在星期五晚上一起輕鬆聊聊,享受餐點🍴、音樂🎶、立陶宛啤酒🍻,還有最Chill的歐洲新創氛圍🥰!
【Pathway to Lithuania- Little Ones, Big Dreams】
✨Time: 8/19 Fri. 5:30 p.m. Reception
✨Location: Startup Terrace Building A3
✨Registration link: https://seminars.tca.org.tw/D10o03543.aspx
We might be small, but what we have in common is a big dream🗭.
Startup Terrace organized a delegation to visit Lithuania and participated in the Startup Fair🛫, one of the biggest startup events there🤩. We invited the teams to come and share the first-hand experience and the follow-up🛬.

Everyone who is interested in Lithuania is invited💞. Come and explore the potential with us. With the traditional foods🍴 and drinks🍻, enjoy the vibe we brought back from Lithuania!
YOU MIGHT LIKE THESE ACTIVITIES
TTA 大師開講 🌱2050淨零碳排·綠色新未來🌍

# 4thAnniversiary
#TTA South

TTA Black Card Membership Open for Application

《SparkTalks|創業思博客》物流新創 Pickupp 如何運用 AI 與大數據演算法翻轉物流產業