🔥SparkLabs Taiwan DemoDay 8 即將於五月登場!🔥
2023-05-09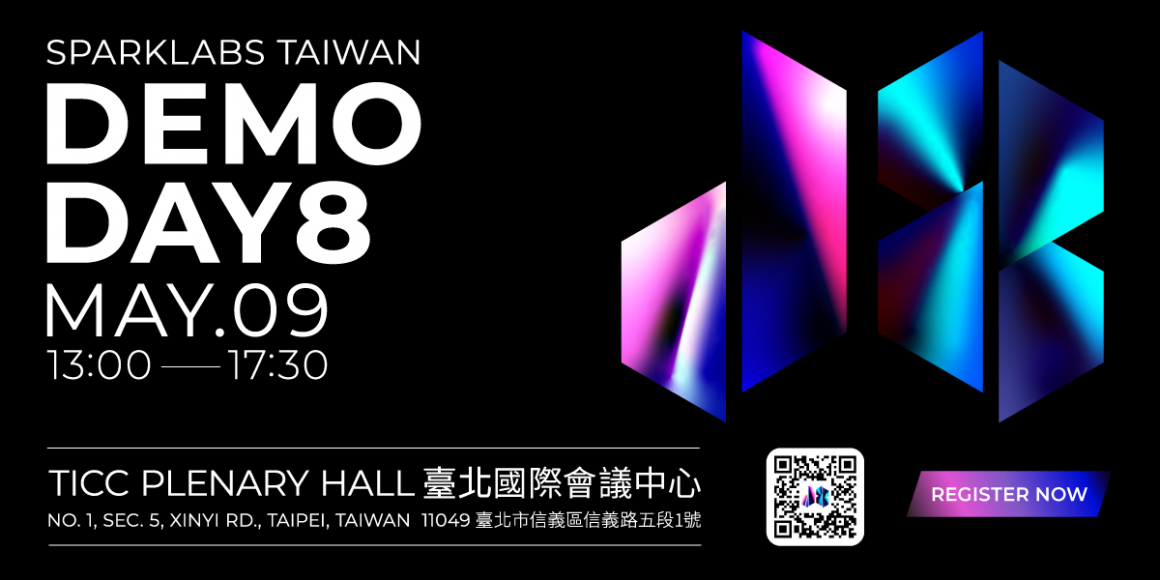 今年,全世界揮別疫情陰影,大家逐漸從線上回歸線下參與活動,誠摯地邀請您共襄盛舉將於五月登場的 SparkLabs Taiwan DemoDay 8,敬請期待活動豐富的議程,第八屆加速器團隊發表、國際級重磅講者分享產業最新趨勢等精彩環節不容錯過!
​
參加 SparkLabs Taiwan DemoDay 8,你可以
✅ 了解潛力第八屆加速器新創團隊與最新科技趨勢
✅ 與 400+ 海內外投資人及企業高階主管交流
✅ 第一手獲得重磅國際級講者獨家觀點
​
日期| 2023 年 5 月 9 日(二)
時間|13:00-17:30
地點|臺北國際會議中心大會堂
​
保留您寶貴時間,到場參與全臺最大新創盛會!
座位有限,立刻報名
https://bit.ly/3n3Mi3r
This year, the world has finally emerged from the shadows of the pandemic, and people are gradually returning to the norms of attending physical events. Join SparkLabs Taiwan DemoDay 8 in May! Please look forward to the exciting agenda, including Batch 8 startup pitches and renowned international speakers sharing the latest industry trends!
​
By attending SparkLabs Taiwan DemoDay 8, you CAN
✅ Learn about Batch 8 startups'potentials and the latest tech trends
✅ Network with 400+ investors and corporates leads from Taiwan and abroad
✅ Gain exclusive insights from prominent and esteemed fireside panel speakers
​
Date | May 9, 2023 (Tuesday)
Time | 13:00-17:30
Venue | TICC Plenary Hall
Address | No. 1, Section 5, Xinyi Road, Taipei City (South side)
​
Save the date and join the largest startup event in Taiwan!
Register Now and Save your seat
http://bit.ly/3Z8clE4
YOU MIGHT LIKE THESE ACTIVITIES
【TTA Global Forum @ InnoVEX 2023】窺探生成式 AI 的未來競爭力

From 1.5 Million Copies Sold Guitar Hero Publisher To Helping Startups Get Into YC