Unlocking Southeast Asia's Digital Potential
2023-10-30
訂閱 TTA 電子報,最新活動不漏接
Subscribe to 𝗧𝗧𝗔 𝗻𝗲𝘄𝘀𝗹𝗲𝘁𝘁𝗲𝗿, don't miss any of our events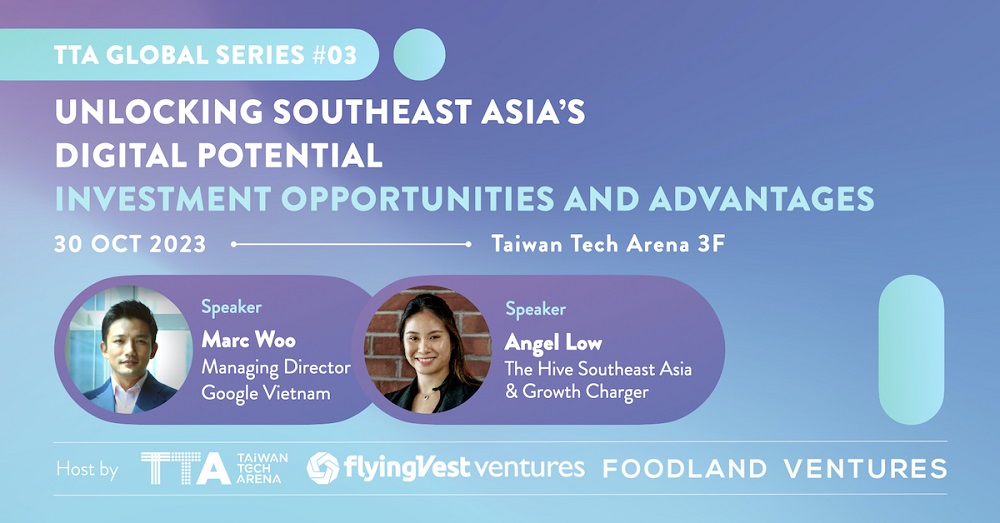 Explore the dynamic digital transformation of Southeast Asia, with a focus on Vietnam and Malaysia. Our speakers share insights into current trends, innovations, and future potential in these markets. Learn from major enterprise's pivotal role in the region's transformation.

Meet The Hive Southeast Asia, a venture capital and co-creation fund supporting seed-stage tech companies in Malaysia and the region. Discover diverse investment prospects, advantages, and strategies for both new and experienced investors in this dynamic landscape. Gain insights into overcoming challenges and leveraging market strengths. Prepare for success in Southeast Asia's digital renaissance.
【Event Information】
▸ Date | 30th, OCT., 2023
▸ Time | 14:30-17:00
▸ Location | Taiwan Tech Arena 3F
▸ Registration | https://www.accupass.com/go/TTAGlobleSeries03

【Speakers】
Marc Woo|Managing Director of Google Vietnam
Angel Low|Stakeholder Management Principal of The Hive Southeast Asia

【Schedule】
14:30 - 15:00 Registration and Reception Time
15:00 - 15:10 Opening Remarks / Photo Time
15:10 - 15:50 Keynote Speech by Marc Woo (QA 5min)
15:50 - 16:30 Keynote Speech by Angel Low (QA 5min)
16:30 - 17:00 Networking

Join us on Oct 30th for this exclusive event !
YOU MIGHT LIKE THESE ACTIVITIES
2023 Japan Meets Taiwan - Networking Event | Startup Island TAIWAN x Shibuya Startup Support x Taiwan Tech Arena