flyingVest Tiny Desk:Crowdfunding to Financing 募資到融資 線上講座
2021-08-19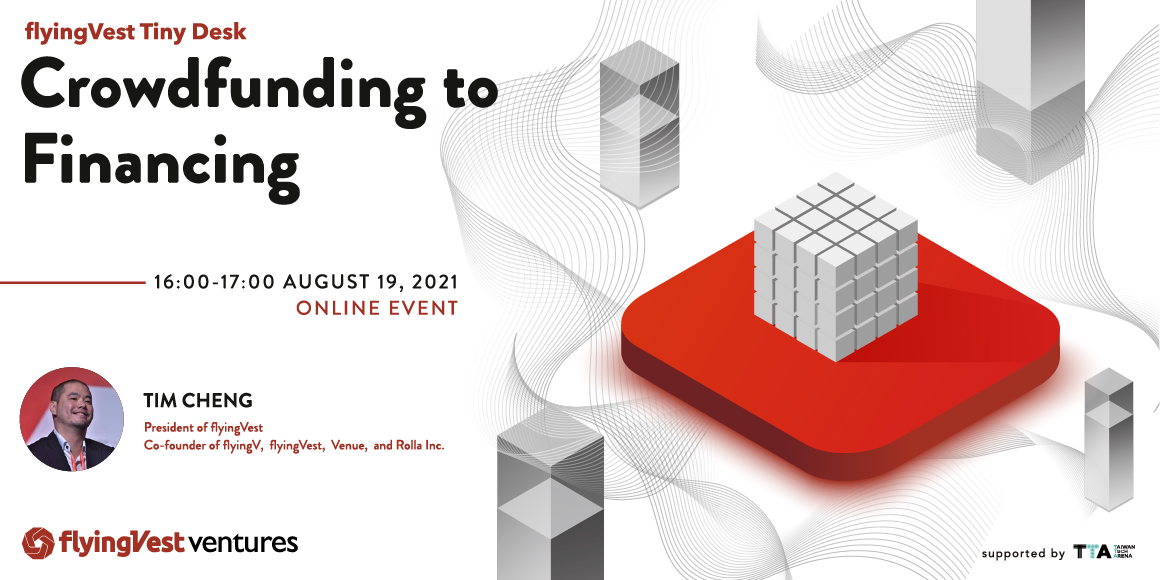 flyingVest Tiny Desk:Crowdfunding to Financing 募資到融資 線上講座
【活動簡介】
從創辦群眾募資平台、共創空間、到新創加速器;從自己創業到支持他人創業,不管是公司或個人,Tim 都在多方面尋求突破。無論是在數位與實體、空間與線上、商業與創意,甚至核心與創新之間,達成平衡並創造價值是唯一的目標。
flyingV 成立近十年,引領台灣群眾募資成為現今潮流,如今更打造 flyingVest 創業生態系,在創投領域,為新創團隊串連更多資源,並透過這十幾年來在台灣的經驗,分享企業可用的各項資源。
【活動資訊】
時間:
8/19(四) 16:00-17:00
形式:
免費線上講座
報名連結:
https://www.accupass.com/event/2107301655481478832474
【講座重點】
?在flyingV跨出第一步,降低實驗的門檻
?突破百萬、千萬、破億的群募亮點專案
?條通裡有酒,還有...濕地創意基地
?從大眾募資到股權募資
【講者介紹】
鄭光廷 Tim Cheng
flyingV董事長、flyingVest董事長
創辦flyingV群募平台、濕地VENUE創意基地、滾動者公司
【主辦單位】
flyingVest Ventures 曙光網路加速器
成立於2020年,是具豐富創投經驗與群眾募資經驗的加速器,與flyingV攜手合作,並串連台灣唯一專營股權的群募證券,打造「曙光網路創業生態系」,給予創業家商業關鍵資源,協助團隊起步即快速紮穩腳步,從台灣前進國際市場。
官網
http://www.flyingvest.com.tw/
粉專
https://www.facebook.com/FlyingVest-113238650858206/
Tim Cheng, co-founder of flyingV and flyingVest, has spent the last 10+years building companies to fit various stages of the entrepreneurial process.
From building the first crowdfunding platform in Taiwan, to a multi-purpose event space, to Taiwan's first equity crowdfunding brokerage license, to an accelerator. The goal is to achieve balance and provide value in all aspects of business: online and offline, creativity and revenue, core value and innovation.
Time :
19/8/2021 16:00-17:00
Place:
Free Online Event
Sign up:
https://www.accupass.com/event/2107301655481478832474
Event Highlights:
?The origins of flyingV and the related ecosystem.
?Crowdfunding highlights: How these campaigns raised millions.
?Venue: A renovated motel designated to urban regeneration.
?Crowdfunding to financing: revenue and equity.
Speaker: Tim Cheng
President of flyingVest. Co-founder of flyingV, flyingVest, Venue, and Rolla Inc.
Hosted by flyingVest Ventures
flyingVest Ventures is an accelerator with extensive experience in venture capital investments and crowdfunding. We focus on building a sound entrepreneurial ecosystem, giving new startup teams the key resources needed at different stages, and assisting the team to grow and enter into international markets.
Official site
http://www.flyingvest.com.tw/
Facebook
https://www.facebook.com/FlyingVest-113238650858206/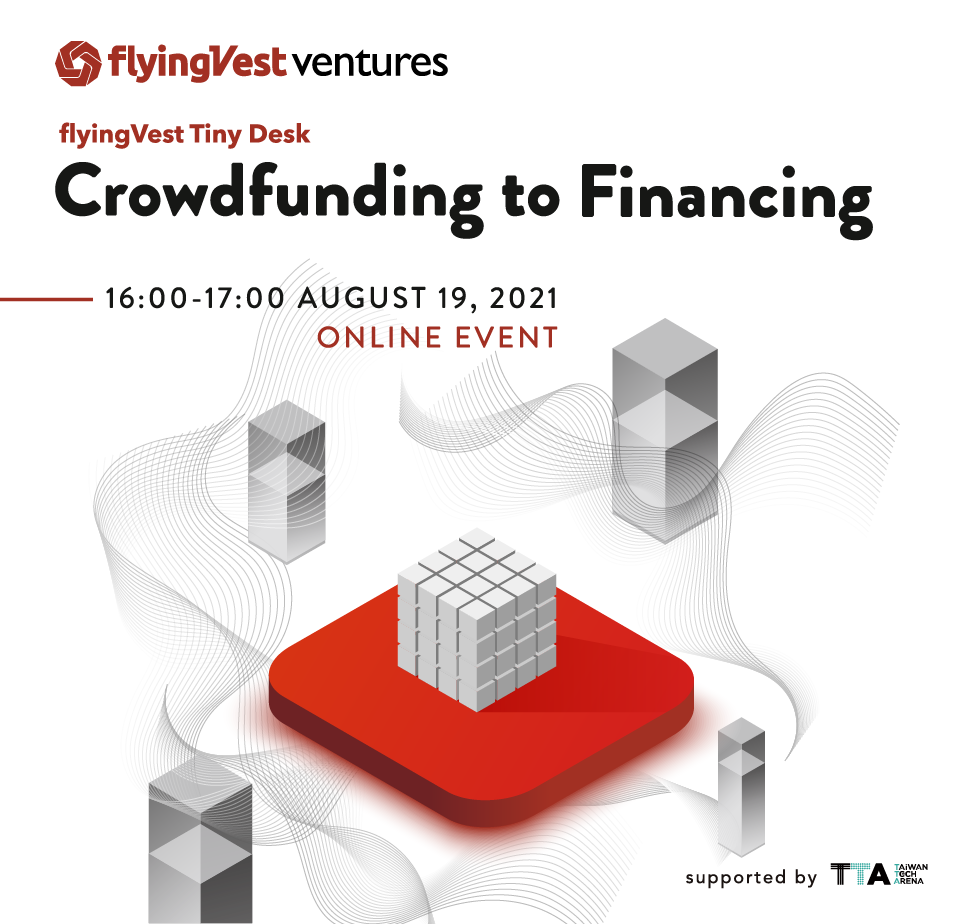 YOU MIGHT LIKE THESE ACTIVITIES
TTA Black Card Membership Open for Application

TTA南部據點x 創新實證碰撞沙龍系列巡迴交流( III )~邀請你來交流!

TTA南部據點x 創新實證碰撞沙龍系列巡迴交流( II )~邀請你來交流!